A custom Santa Fe gate is crafted with salvaged wood, an antique panel, custom grillwork and hammered reclaimed tin. Our final entry in this series features a classic Santa Fe gate. You see blue accents all over Santa Fe - doors, window trim, shutters, columns & corbels, tiles, and, yes, many gates. It is said that long ago, doors and windows were painted blue to ward off evil spirits. It is now a design aesthetic that is part of Santa Fe style. We start off with the site photo - the "before" shot, with a purple gate and peachy stucco. As I mentioned in the last post, clients usually peruse our library, looking at and marking different styles, colors and elements of previous work. The new gate was inspired by a gate we ...
Read More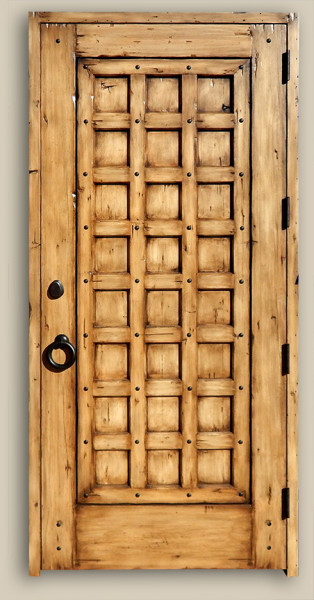 Here is the 2nd to last gate in this series of gate posts. My aim is to highlight the variety in just these four gates, as a taste of the possibilities of custom elements. Because we are a custom manufacturer we make each piece, whether a door, kitchen cabinet, vanity, bed or gate, by hand, specifically for our clients. This means that each piece is as unique as our clients and their homes. As a part of the process at La Puerta Originals, clients visit the antique yard.  We have 4+ acres housing architectural salvage, corbels and columns, reclaimed barn wood, eclectic antique pieces, recycled iron and tin and much more. While touring the salvage yard and looking at elements, we discuss architectural style and provenance, and how material can be ...
Read More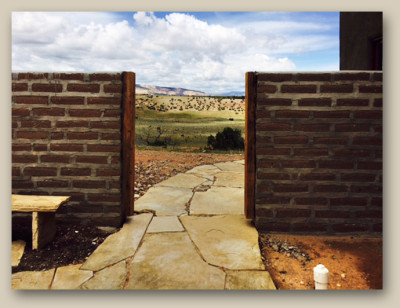 Gates made from salvaged building materials - reclaimed Douglas fir, carved panels from antique cabinet doors and hammered salvaged tin panels - for a Northern New Mexico property. I have another set of gates to share. These are going to Abiquiu, New Mexico (entry gate site shown above), a little less than an hour north of Santa Fe. The area is probably most famous as inspiration for some of Georgia O'Keeffe's paintings. Here are six seconds from my phone after we had passed the most jaw dropping scenery and I switched to the passenger seat to take pictures. Abiquiu Video Clip for Blog The scenery there is absolutely stunning, with peach and sage mountainsides and very often, clear blue sky studded with fluffy white clouds. Not coincidentally, the gates are sage green with peach accents. The first ...
Read More
Antique Mexican doors and salvaged woods are used to make a pair of matching courtyard gates.  Reclaimed tin is hammered flat and used to make a quilted edging on the tops and bottoms of the gates. We have been having some great gates coming out of the shops of late. I featured six of them in a recent Facebook post and thought I would go into a little more detail in blog posts. First up, we have a pair of courtyard gates that are headed to Southern California, near Palm Springs. In that area you have a lot of mid-century architecture and a lot of Spanish-style architecture and landscape design. These particular gates tend more toward the Spanish style. As you can see in the drawing, the gates are ...
Read More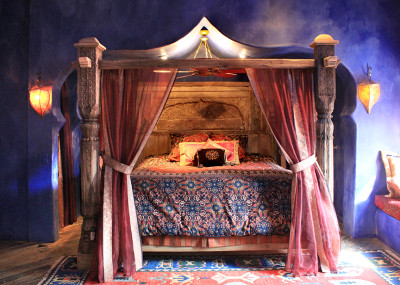 Beds crafted with architectural antiques - carved antique columns, corbels and surrounds. Our story starts in the year 2000, a year before I even came to LPO.  Our client happened into our old location and was taken with a bed in the showroom. Usually the showroom is filled with finished product waiting to be shipped, but occasionally we have things for sale, and this was one of those rare occasions. I even found a photo of it that was taken in the parking lot. It is a fabulous bed, with great details, mixing antique columns and panels from an intricately carved antique door surround. These door surrounds are amazing in their detail and variety. Some feature swirling carvings with floral designs and other images from nature, such as ...
Read More
Featuring custom doors with carved surrounds and beds made from antique Mexican doors Hello! I am back for the conclusion of our Canyon Road Tour, with the last of the installation images taken at a remodeled condominium on Canyon Road, here in beautiful Santa Fe. I have to tell you, we are having a spectacular fall! The temperatures fell abruptly, the leaves are quickly turning and dropping, and the smell of roasting chile and burning piñon fill the air…Heaven! In this post, the stellar photos are by Eric Swanson, the less than stellar ones were taken by me or the shipping crew, unless otherwise noted.  If the Canyon Road Tour is not ringing a bell, for the complete trek, you can read the previous posts, which cover the Gate and Entry, Living Room ...
Read More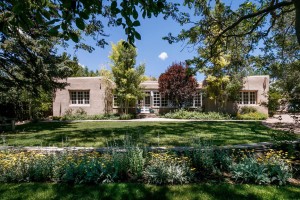 Custom kitchen design, custom doors and bathroom suite with carved custom vanity and antique columns Today we have some really fabulous install photos of La Puerta Originals creations.  The custom kitchen features an intricately carved stove hood made with antique corbels and carved panels.  The refrigerator has wooden panels that match the cabinetry. In the mix there are also photos of lots of La Puerta Originals doors, grilled transoms, free-standing and built-in cabinets and vanities with matching carved mirror frames.  That's all I will say, because sometimes it is better to let the pictures do the talking. ...
Read More
Some of our favorite custom doors - interior doors and exterior doors Another little detour here.  I have been working on the books in the library lately, and I keep finding myself saying, "Ooh!  That's a nice one…".  So, I thought I would do a quick blog entry and share some of them.  The ones shown above are a set of built-in bedroom closet doors with antique carved panels.  Love the surround, with the crown moulding on top. This is a door for a study, with some simply carved panels from an antique Mexican door.  Great pattern.  You can always click on the photos to see them in more detail (highly recommended, as the details are what La Puerta Originals is all about!), but I will give you ...
Read More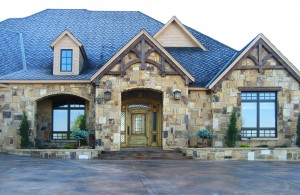 Installation photos of one of our custom exterior doors - a pintle-hinged front entry, and a custom wine cellar door I really will get to the final Canyon Road entry, but I have some more install pics to share with you.  I am always so happy to receive installation photos from clients - it is so great that they take the time to share them with us.  And these are big, gorgeous photos, so it is doubly exciting!  I featured these doors as they came out of the shops, but that was quite some time ago, so I will start anew. As most projects do, this one began with the client perusing the books in the library.  This gate was chosen as the inspiration for the doors. ...
Read More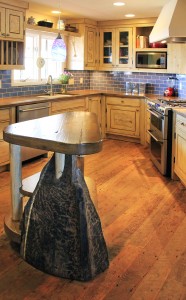 Installation photos of a custom Santa Fe kitchen, featuring a custom kitchen island, kitchen cabinets and kitchen customization I do have one more entry for the Canyon Road remodel, but I want to take another detour because I just finished adjusting some install pics of a kitchen we did here in Santa Fe.  I took the photos, so the lighting is not fabulous and consistent as in Eric's, or any other professional photographer's photos, but they get the job done.  This will be a fun one 'cause I have befores and some other interesting photos, so let's jump in! The kitchen in question is a remodel.  Building, as with most things, is interesting here in Santa Fe…  I have a friend whose house came with a pond ...
Read More